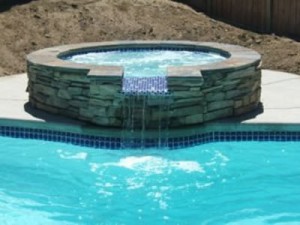 Did you know it's possible to combine the beauty of a swimming pool with the relaxation of a spa all in one neat swimming pool construction package? It is if you talk with your swimming pool contractor from Tipton Pools about adding a spill over spa feature to your pool project. You know that there is nothing more relaxing than swimming away the stresses of the day or playing with the children in your own pool. But, having access to the heated waters of a spa amps up the fun and relaxation another notch.
Spill over spas can be constructed as part of an in-ground swimming pool. With this design you can literally swim from the spa to the pool and back without ever having to leave the water! A spill-over spa is a luxurious addition to add to any swimming pool or could be part of a renovation project.
The spill-over spa is installed adjacent to your in-ground pool and incorporates a waterfall design that "spills over" into the main structure of the swimming pool. As with any spa the placement of the jets is crucial because they are what will be working on your aching joints and muscles. Visiting a showroom and actually spending time in a showroom model spa will help you know what kinds of jets you like best and the placement of them in your own structure at home.
When it comes to the jets for the spa, swimming pool contractors in Knoxville, Tennessee find that most people want jets that will send water to the upper back and shoulders and the lower back. Some individuals want jets in the spa floor to help relax and massage the muscles in their feet. In addition to determining the placement of the spa jets you will want to make certain that the spa seats are comfortable and are placed in such a way that you can lean back and relax without having to worry about holding on!
Take time to look at the designs available for a spill over spa then talk with your pool contractor about the possibility of having one as part of your project.