Tipton Pool Contractors, serving Knoxville, Tennessee discuss beach entry swimming pool benefits 
Have you ever considered getting a swimming pool with a beach entry? Do you even know what a beach, or zero-entry, pool is? These swimming pools are designed much the same as water at the beach in nature is — a gradual slope gets you into the water rather than taking stairs or jumping into the pool off the side. You can literally walk from ankle deep water up to as deep as your swimming pool eventually becomes. A beach entry swimming pool doesn't mean that there are no steps or stairs in the pool as there might be some underwater steps as t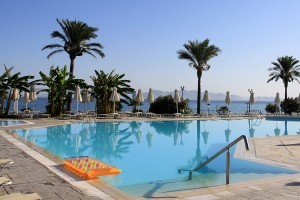 he water gets deeper but the appearance is that the water gently slopes toward the "deep" end.
If you are wondering whether a beach entry swimming pool might be right for you, the swimming pool contractors from Tipton Pools offer this information to help you make a decision:
Beach entry swimming pools, while beautiful and graceful, are also viable options for families with children, the elderly or individuals with mobility issues. A beach entry makes it easier for people to get into the water and it is also a great place for children to splash and play without having to worry about being in water over their heads.
Not all swimming pool contractors install beach entry swimming pools, and when you find one who does you will definitely want to know whether you have enough yard to accommodate it as they take more space than a traditional pool. Beach entry pools are typically constructed of gunite although there are a few fiberglass pools that offer beach entry option.
A beach entry could be ideal if you have pets who like to swim with the family, but a beach entry could mean that your dog will be in the water all, or a lot, of the time — even when you might not want them to join you. It's a consideration, to be sure.
A beach entry swimming pool might not be for you or your family, but they are certainly a viable — and beautiful option — for many swimming pool owners.