Tipton Pool Builders, serving the Knoxville, TN area, explain pool safety fences and enclosures
Swimming pool safety is always front of mind for swimming pool contractors from Tipton Pools and should be front of mind for anyone who wants to own a swimming pool. Along with thinking about pool safety, you and your swimming pool contractor will work together to assure that your pool meets or exceeds local safety requirements and to add enhancements that you feel will benefit your family.
One of the items that are required for swimming pool safety is a pool fence. Don't let the idea of the old chain link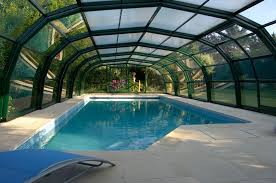 fences color your view of what a pool safety fence can look like. Today's design and architectural technology has advanced to a point where a pool safety fence or an enclosure works as part of the overall pool and landscape design.
From beautiful etched glass enclosures to rustic-looking wooden fences to other materials, the pool enclosure is no longer a "clunky" looking backyard object, but a piece of the overall swimming pool architectural design. An enclosure adds to the aesthetics and many swimming pool owners use them.
If you have the space and the budget, consider "enclosing" your swimming pool in an addition that you have constructed onto your home. This offers a way to have a swimming pool with the potential for year-round use.
When you think of your swimming pool enclosure as a swimming pool accessory you can begin to imagine the possibilities that come with that and you can also work with your swimming pool builder to make certain the enclosure enhances the aesthetics and your lifestyle.
Your swimming pool contractor will be able to provide the specifics for the height of your pool safety fence and its locking mechanisms and any other safety measures you may want to add into your pool project.