Swimming pools have evolved in recent years in both technology and design. One of those new technologies and designs involves the installation of spa pools. These structures combine the best of both worlds — a pool and a spa!
Why should you consider a spa pool? Here are some of the reasons the swimming pool contractors from Tipton Pools think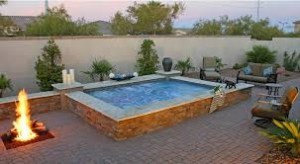 you should:
The luxury of it. A spa pool is a bit more luxurious than a swimming pool by its very nature. They are finished in either marble or granite and those finishes come in myriad colors and patterns. You can also choose a textured stone finish if you want to go for a more natural look and feel.
The beauty of it. Adding underwater lighting for which you can change the color of the lighting adds intrigue and enhances the ambiance of the experience when you're in your spa pool. Talk with your Knoxville, Tennessee swimming pool contractor about the installation and placement of in pool lighting that will provide maximum impact.
The health benefits. You can certainly use your spa pool as a place to swim and frolic with your family or as a place to entertain friends and family, but for most people the biggest benefit is from the spa jets. The jets provide oxygen bubbles into the water and this can lead to a feeling of "floating" when you're in the water. The jets can soothe aches and pains and relax tired muscles. In many spa pools, you can add essential oils which will then infuse the oxygen bubbles with aromatics and these oils can address many health issues from relaxation to relieving a headache.
Whether you already have a swimming pool or are looking to install some sort of a water structure which won't take up your entire yard, you should talk with your pool contractor about the benefits and advantages (and potential disadvantages based on your lifestyle) of a spa pool.