Tipton Pool Builders, serving Knoxville, Tennessee discuss outdoor living spaces
Summer is making its way across the country and in many areas of the country it has already arrived. If you're a swimming pool owner, chances are you are either already swimming or hoping it will soon be warm enough to swim! If you're working with your Tipton Pool Builder to get your pool opened, you may also want to ask him about upgrading or designing an outdoor living space for you.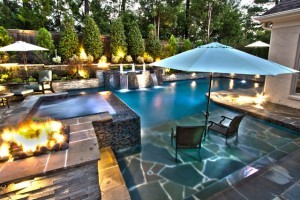 There are myriad factors to keep in mind when designing an outdoor living space and your Knoxville, Tennessee swimming pool contractor shares these top three:
Decide its access point. Do you want to access it by going through a room in your house? Will you want your outdoor living space to encompass the swimming pool itself or will you want it to be adjacent to the pool but secluded? You need to decide how long of a walk you will want from the home to the outdoor space — this is especially important if you're carrying food!
Think about how you want to use the space. Will it be an extension of the pool? Will you want to move your indoor living to the out of doors for most of the summer? Do you want amenities such as a fire pit or even an outdoor kitchen? How often will you be entertaining? Do you want a refrigerator or other items that will make it easier to entertain without having to keep going back and forth to the house?
Decide on the kind of furnishings you want. Naturally you will want furniture that is weather resistant and that can also stand up to swimmers in wet bathing suits. You will want furniture that is comfortable when sitting on it with bare legs (wicker is sometimes scratchy, for instance). Will you want storage containers to house extra towels or cooking utensils? Will you have a grill and need a space to store condiments or dinner items? Talk with your pool contractor and let him know how you ultimately envision the site and he will work with you (and your budget) to make it happen.
There's no time like the present to begin envisioning your outdoor living space and then talking with your pool contractor to make it a reality!