Your swimming pool affords your family hours of fun and enjoyment. It is also a great place for backyard entertaining for business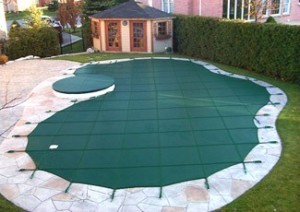 associates and neighborhood parties. In addition to providing fun, an in ground swimming pool complements and adds value to the price of your home.
When you've made the decision to install a swimming pool, you have to be willing to accept the responsibility that comes with it as it relates to keeping children and pets safe. Before you even talk with a swimming pool contractor from Tipton Pools, your children should be taught basic pool safety and should be taught that under no circumstance are they allowed to swim without the presence of a responsible adult. Regardless of whether you have an above ground or an in ground pool, you need to have safety devices in place. In fact, municipalities have zoning and code laws in place that require either fencing, pool safety alarms or both.
Swimming pool covers can be used to keep your swimming pool or spa free from airborne contaminants. They are also used to seal and protect it from winter elements and provide a protective barrier to prevent children or pets from falling into the water.
There are myriad types of pool covers on the market that can perform twofold functions. Pool owners can opt for manually installed ones or covers that operate electronically via a motor on tracks that run parallel to the swimming pool. Remember, though, a swimming pool cover is not a foolproof method for keeping children safe from drowning.
To provide maximum safety, your swimming pool should be surrounded by a fence that has a locking gate. The fence should be at least four feet high. Again, in many areas of the country, fences are required by municipal law and you will need to follow the guidelines set forth by your particular code enforcement officer. Additionally, your swimming pool builder in Knoxville, Tennessee will be well-versed in the laws for your particular area. Choose a fence that adds ambiance to your swimming area – you don't have to stick with the standard chain link fence. Your fence can be decorative as well as protective as long as it completely surrounds the pool and locks to keep children out.
When it comes to safety, redundancy is not a bad idea. Many individuals install pool fencing, covers and also install pool alarms. Again, a pool alarm might be required by the municipality in which you live and this, too will come up during the permitting process for the construction of the pool.