You can get form and function from your pool fence. Just because it may be a law that you need to have a swimming pool fence, the swimming pool contractors from Tipton Pools in Knoxville, TN explain your fence can be aesthetically pleasing as well as providing a layer of necessary protection.
Get form and function from your pool fence
You probably know the benefits that a swimming pool fence provides — keeping children, family pets and wildlife out of the pool when you're not in attendance but did you know that your swimming pool fence can enhance the beauty and aesthetics of your outdoor living space, the curb appeal of your home and the beauty of the pool. When talking with your pool contractor about your pool fence — whether during the pool construction or during a pool remodeling project, here are a few items to consider if you opt for a wooden fence: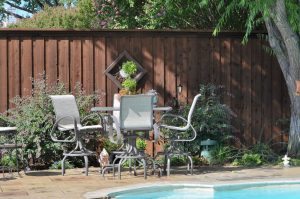 It's a sustainable product.
A wooden fence adds an earthy look to the landscape.
It's versatile, can be crafted into intricate designs or can be made to look rustic.
A wooden fence is sturdy and adds to your backyard and swimming pool privacy.
A wooden fence can be painted or stained in a variety of hues.
This is one of the worlds' oldest construction materials for fences but can impart a contemporary look.
If you're happy with your current fence, but want to find a way to add to its appeal here are a few options to consider:
Hanging or potted plants to complement the outdoor living space.
Flower pots can be hung from the fence or placed strategically to add to the ambiance.
Plant pool-friendly shrubs or trees. Foliage refreshes a tired-looking fence.
Don't forget to think about lighting for the fence when you update or upgrade the pool or outdoor living space lighting. Safety and security need to be always front of mind, but that doesn't mean the fence can be appealing.