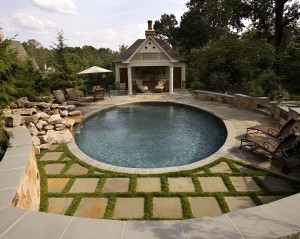 Tipton Pool Builders explain hot tub health benefits
If you've enjoyed your swimming pool, but want to find a way to enjoy spending time in the water once summer has passed, a hot tub or spa might be the ideal addition to your home. A hot tub, depending on its placement, can be used year round. In fact, there is a decadent feeling to being in the heated water of a hot tub or spa while the snow falls around you! Is it time to talk with swimming pool and hot tub contractor from Tipton Pools and make a decision on whether it's the right time for a hot tub?
Hot tubs and spas are ideal for anyone, in any part of the country who never wants to let the fun of spending time in the water end just because summer is over and the pool is closed. Imagine a long, cold day outside followed up by a long, relaxing soak in a hot tub. Bliss!
When you're talking with a Knoxville, Tennessee hot tub contractor regarding your hot tub installation, you will want to have an idea of the way in which you want to use it — hydrotherapy or physical therapy purposes or for pure whirlpool-induced  relaxation.
Some of the benefits of time spent in a hot tub include:
Physical benefits
Improved circulation
Emotional benefits from relaxation
Warming muscles and joints to relieve arthritis pain
The heat of the water and the jets can help your body shed toxins
Using a hot tub or spa regularly is the best way to reap maximum benefit from it. Use the hot tub even when you aren't stressed or when your muscles aren't aching. Regular spa usage can help relieve sinus congestion; rather than taking medication for a stuffy nose, take a dip in your hot tub.
When you're shopping for a hot tub plan to wear a bathing suit as you will want to actually test out the tub designs and get an idea on jet placement and the type of jets you want in your hot tub.