Tipton Pool Builders offer hot tub buying tips
The investment in a hot tub or spa is a decision, that like your swimming pool project, requires research and taking the time to don a bathing suit and sit in a few working hot tubs so you can determine the style of jets you enjoy and the placement that works for your unique body and your needs. A decision you will need to make first is whether you want a stand alone hot tub or spa or if you'd like it to be a part of your swimming pool. You can have a swim-up spa which will allow you to swim from the pool right into the hot tub itself — it is a unique design that many individuals like.
The budget 
Put together a budget for the construction and investment in your hot tub before you meet with a pool and hot tub contractor. Knowing how much you can spend may help to narrow down the choices on the style, placement and design of the hot tub. Plan to spend anywhere between $3,000 and $25,000 for your hot tub. The difference in price ranges are for either above ground, stand alone models to those that are incorporated into the swimming pool itself. Even if you opt for an above ground model you will still need to budget for excavation and landscaping for the hot tub.  Don't forget too, to budget for ongoing operating costs which for a hot tub can run between $20 and $40 per month.
Placement of the hot tub will also play a role in the cost. If your hot tub contractor from Tipton Pools has to run electric or plumbing to an out of the way location, it will cost you more money for installation.
The placement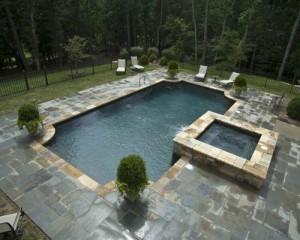 After you've determined your budget you will want to decide where the structure will go. Do you have a deck or porch where you can place it? Do you want to construct an area to house it — a grotto? If you live in an area of the country that sees snow and you want to use the hot tub in the winter, location will play a key role.
The feel 
You will definitely want to sit in and sample hot tubs before you make any final decisions. Yes, your hot tub contractor will urge you to don a suit and slip in. You want to make certain you like the types of jets you'll have installed. You need to know where you want the seats placed. Do you want simple jets or therapeutic jets? Will you have people of differing heights using it? If so you may need to place the seats in various locations and at varying heights.
The cover
Consider a hot tub cover as a necessary piece of equipment, not an accessory. A quality cover will keep dirt and debris out, the heat from the water in and will also help slow the rate of evaporation. You may also want to budget for a hot tub cover lifter.
The bottom line 
A hot tub is a body of water in your backyard that you and your family can use and enjoy year-round regardless of the weather.