While you are likely thinking of constructing a swimming pool in your backyard as a way to have fun and entertain your family, in the back of your mind you are likely wondering whether it will increase your property value. Talk to with your Knoxville, Tennessee swimming pool contractor about whether he feels the type of pool you're looking to have installed will have the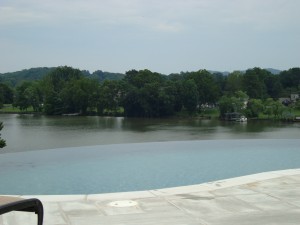 potential to increase your home's value.
In some areas of the country a swimming pool is a luxury while in others it is considered a necessary fixture – where you live will determine whether it adds value to your property. The National Association of Realtors writes that an in-ground swimming pool can increase your property value by as much as 15%, however, that figure varies by region.
Because swimming pools are labor intensive and need almost constant maintenance, don't install one simply because you think it will add to your property value. It should be an investment you are making not only in your property but as a way to enhance your family fun.
In ground pools add value where above ground pools typically do not. Adding a hot tub or spa area, beautifully landscaped, can also enhance your property value as well as offering a place for relaxation and stress relief. Here are a few things the swimming pool builders from Tipton Pools wants you to think about:
Construction materials: Concrete or gunite pools are similar in design and can both be finished with tiles. With a concrete pool you can amp up the design by applying paint, pebbles, plaster and it can also be customized to complement your home architecture. Gunite pools are more easily adaptable to more free flowing construction shapes. These pool are typically more durable.
Vinyl swimming pools are constructed in a fashion close to an above ground pool. A hole is dug in your backyard, steel frames are put in place and the liner is stretched between the frame. These pools are the least expensive to construct but may not be as durable as concrete or gunite.
Fiberglass swimming pools are an attractive option as well. These pools come in a shape that resembles a bathtub. The structure is delivered and set into the hole your pool builder has excavated. These swimming pools may have a higher up front cost but their upkeep and maintenance are generally less.
A swimming pool project is not a decision to be undertaken lightly because it brings with it a large upfront construction price tag and ongoing maintenance and upkeep responsibilities. If you decide a swimming pool is an investment you want to make in both your real estate holding and in a place for family fun and entertainment now is the time to talk with your swimming pool contractor.