There are many swimming pool building materials from which to choose and one of those materials is fiberglass. A fiberglass swimming pool is a popular choices. With many families opting for "staycations," having access to a pool in their own backyard is a way to feel like you're at the beach without having to leave the comfort of your own backyard. Imagine how great it is when you welcome in summer with a Memorial Day swimming pool party! If you haven't yet had a swimming pool installed, your pool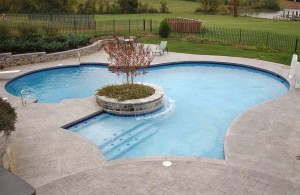 builder in Knoxville, Tennessee will also tell you that an in ground pool can potentially add value to your home.
If you opt for a fiberglass swimming pool project, here are some steps offered by the swimming pool contractors from Tipton Pools on keeping it as beautiful as the day it was installed:
Regardless of the type of swimming pool you have, you need to clean it regularly, especially if your pool is in an area prone to dropped leaves and other debris, you need to clean it even more frequently. Leaving bugs, debris and leaves in the water leads to bacteria growth. Use a skimmer and scoop out dirt as often as needed. Pull out the vacuum of the leaves and twigs have fallen to the bottom of the pool.

Your pool could become stained if the metal levels in your water exceed normal levels. If you see reddish-brown stains, this means you have high levels of iron in the water; blue-green stains indicate high levels of copper; gray stains mean high levels of magnesium. If you see staining talk to your swimming pool service professional for the correct way to address not only cleaning the stains but preventing them in the future.

Talk to your swimming pool service tech about the best type of cleaner for cleaning a fiberglass swimming pool. Also avoid using stiff-bristled brushes to avid scratching the walls and floors.
After the swimmers are done in the pool, run the filter for a brief time. This will help gather up the debris that was stirred up. The filter should run for about eight hour a day to keep the water properly circulated to keep the chemicals in balance. Talk to your swimming pool builder about an automatic timer for your filter.
In order for your pool to work efficiently and to prevent bacteria or mold from taking hold you need to test the water's chemical levels daily. When the chemical levels fall below the recommended levels as indicated on the test kit, add chemicals to get back into the proper levels.
Talk to your swimming pool builder about a cover for your fiberglass swimming pool. Using a cover when your pool is not in use, helps keep dirt and debris out, helps retain the water temperature and helps prevent evaporation.
Before you make any final decisions on a swimming pool building material, ask your pool contractor to explain the benefits of fiberglass, gunite and vinyl liner so that you can make an informed decision.