Tipton Pool contractors in Knoxville, TN walk you through what to know before you get a pool
Is becoming a swimming pool owner as easy as waking up and announcing, "we're going to get a pool!" Well, not really, but wanting one is one of the first steps in the process! When you're making the decision to become a swimming pool owner, you will want to talk with a pool contractor from Tipton Pools to discuss the project, understand the nuances of construction and tell us your budget so we can work together to make your dreams come true.
There are, however, other items that may need to be considered before you become a pool owner and they include: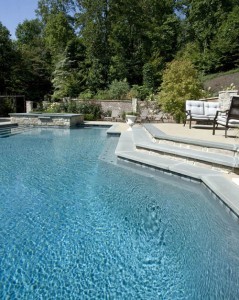 Are there special construction permits you need to apply for? A pool contractor who is familiar with the area in which you live will have access to the information you need to obtain any building permits and will help you obtain them.
What is the soil condition? If you have soil that has a high water table, it will be hard to excavate. If your soil is of high sand content, you will have the same negative problems with excavation. Is your soil overly rocky or clay-filled? Any of these issues could add to the cost of your pool construction project.
Do you have enough yard space to accommodate a swimming pool? Will you have to "give up" valuable backyard real estate in order to accommodate a swimming pool? Is that something you can live with long term? If it's just you and your significant other in the home right now, you may be willing to give up the yard. If, however, you bring children into the mix, having space for them to run and play may become more important. Try to determine who you will use your yard for the long-term then plan your pool around your current, and potential future lifestyle. Even if you don't know what the future will bring — and who does — it doesn't hurt to think about it before you commit to a swimming pool project.
If you're looking into becoming a pool owner this year, now is the time to begin researching and preparing for it so you can get on a construction schedule for the project. Here's to your swimming future!