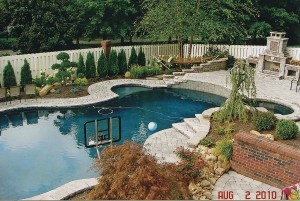 What goes into the construction of a swimming pool? It's a major undertaking and also a major disruption in the flow of your backyard and its availability during the construction phase. When you're choosing a swimming pool contractor for your project, spend time with him and ask what the specific steps are and how long they will take. If you understand that it will take X amount of weeks, you won't be surprised and won't be wondering why it didn't take Y amount of weeks. The swimming pool contractors at Tipton Pools work with prospective pool owners to help them understand what is involved in the construction of their dream swimming pool.
The three major steps involved in a swimming pool project as explained by Knoxville, Tennessee swimming pool contractors are:
Your swimming pool contractor will come out and survey your yard for your potential swimming pool project. They will work with you on the budget for your swimming pool as well as help you choose the best design for your yard type and your budget.
Using the latest computer design technology your builders will work with you to bring your ideas to life in full 2-D color. You will see the pool as it will look when completed in every detail.
We will work together in the selection of options – fountains, slides, etc. you will want to include.
Construction phase
Once your swimming pool builders have completed the design in animated 2-D the plans will be reviewed and final adjustments will be made to the details and the pricing and options will be finalized before working out an agreement incorporating all the ideas and plans into a clearly written outline.
A site survey will be completed complete with the design and options that have been agreed upon.
A detailed working document for construction will be provided to you.
Choosing colors
Now's the time you will work with your contractor to choose the final color schemes, tile, decks, and interior finishes adds the final touch to capture your taste and flair in the project.
Going the extra mile
The swimming pool builders at Tipton will go to town and secure all of the building permits and site plan approvals necessary for your building project.
Securing permits and code inspections assures that all of the electrical codes are met.
Quality control
You can rest assured that your swimming pool construction project will be staffed by a professional building crew with a directive to complete the project on time.
Your swimming pool builders have no control over weather but they do everything in their power to keep the project moving along and to remain on time.
Once your project is done, your pool builder will walk you through the process of knowing and understanding what the pool parts are and how they work.
There are some swimming pool contractors that will work with pool owners after the construction is over to provide ongoing maintenance and pool upkeep. Ask your potential builder if that is a service he offers after the sale.