Knoxville, Tennessee pool contractors offer pool landscaping tips
As any swimming pool owner will tell you, "your pool is more than just a structure that's stuck in the backyard." It's an aesthetically appealing spot. It's a great place to relax. You can get in shape in the privacy of your own yard. It's a structure that makes your home the party hot spot with friends and family. When you work with a swimming pool contractor from Tipton Pools you will want to let them know what kind of look and feel you want for your pool and your backyard landscaping. What do we mean by that? Do you want a natural looking pool area? Are you looking to have your pool and its landscaping take center stage above all else? Do you want a pool that complements, or contrasts, your home's architectural style? The possibilities are endless.
Consider the way in which your pool's landscaping can not only enhance the beauty of your swimming pool, but how it can also amp up the safety of your pool. As your pool contractor from Knoxville, Tennessee explains, landscaping can also help minimize pool maintenance and may also help keep your pool water warm and slow the speed of the water evaporation.
What's the focal point?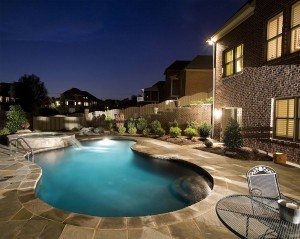 Will the swimming pool be the focal point of the backyard? Do you want to focus your attention on the body of water or the landscape surrounding it? Bricks, flowers, decorative patio stones, lighting or a gazebo you can take your pool area from "that's nice" to "wow!"  Strategic landscaping is one of the easiest ways to add privacy and ensure the safety of swimmers.
Add trees and flower plants to add a new dimension to the area;  make certain flowering plants aren't too close to the pool – you don't want flowers floating in the water. Talk with your pool contractor about the best types of plants to use around the pool. Consider plants as natural privacy screens. They can also offer shade to the pool and deck. Plants complement your outdoor living area perfectly and using them as privacy screens give you a connection to nature rather than building a wall or fence.
Landscaping can be both beautiful and functional. Make certain the safety fence you use enhances the aesthetics of the pool as well as providing the safety and protection you need to meet local safety requirements. Even a metal link fence allows you to incorporate climbing plants, flowers or vines.
Add lighting to enhance the ambiance and amp up the safety aspects.
Pool furniture plays a part in the landscaping. Choose a style:  rustic, funky, art deco, etc. purchase accessories that heighten that feeling. Add patterned, weatherproof cushions that make the colors pop and can easily swap one design for another to change things up a bit. Plastic storage units are great for storing pool accessories and can double as tables. Shop for weather- and waterproof items and those that can withstand the chlorine from wet bathing suits.
Don't forget to consider the pathway to and from the house and the pool. Adding decorative tiles and stone pavers and lighting will enhance the area and add to the safety. Regardless of the landscaping style, the fun you have in and around the swimming pool will only be enhanced through the artful use of landscape design.