Have you owned your swimming pool for a while now? Did you buy a home that had a swimming pool that is either in need of a renovation and upgrade or you want it to reflect your unique tastes? If any of these have you nodding your head, it might be time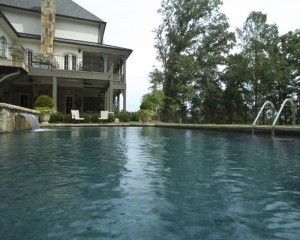 to call your Knoxville, Tennessee swimming pool renovation contractor and ask him what can be done to enhance the aesthetics of your swimming pool.
Swimming pool renovations can be completed because of a need (broken tiles or old or inefficient pool equipment) or because you simply want a brand new look to your backyard and the pool and outdoor living space itself. The sky — and your budget — are the limits when it comes to a pool renovation.
Here are some reasons for a pool renovation project:
Lifestyle changes — you need a bigger or smaller pool space. You need it more for an area to entertain adults as opposed to hosting a children's party.
You're renovating your home and/or yard and want the pool to be part of that project.
You want to upgrade and update the pool lighting and aesthetics
You want to add to or upgrade the outdoor living space
You want to add water features — or remove water features that are no longer relevant to your lifestyle
When you set up an appointment with the pool builders from Tipton Pools you will want to discuss some specifics that might include:
Is there a need to replace or remove the pool tiles?
Do you need a new pool liner?
Does the pool equipment need to be upgraded to be more energy efficient?
Do you want to completely revamp your outdoor living space or even include a pool house or outdoor kitchen as part of the project?
Do you need to install a way to make it easier to get into or out of the pool because of physical limitations?
How about adding a hot tub or spa feature to one end of the pool?
Do you want to install new technologies such as remote control operation or motorized pool covers or even a solar heating system?
Have a budget in mind for the renovation before you meet with your pool contractor and then whittle away at the project based on the "must dos" as compared to the "want to dos" on your list.