Knoxville, TN swimming pool builders from Tipton Pools say now is the time to plan your pool project
You may be surprised to learn that this is the best time of year to plan your 2015 pool construction project. Why? The pool builders are in a bit of a lull — construction-wise — depending on the area of the country you're in if the weather is amenable you may be able to begin excavation soon and the prices may be better now than in the height of pool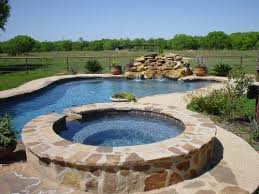 construction season. The biggest plus, though, is the fact that you won't have to battle for a time slot with others to get on Tipton Pool builders' schedule for construction.
Consider that most people's thoughts turn to, "I want a swimming pool this summer" in the spring time and you can see how the pool builders will become busier and you will have a harder time getting your pool built on a schedule you may prefer. Consider, too, if you want a pool constructed so you can have it available for a life event — wedding, graduation, etc. — starting sooner rather than later is your best bet. Also, in many areas of the country, spring is wet and that can lead to construction delays and even cost overruns.
Swimming pool contractors in Knoxville, Tennessee offer this checklist of must-dos for your 2015 pool project:
Spend time with a potential pool contractor, share your dream of the finished project, discuss your budget and learn about the pool construction process so that you understand the time frames, etc.. A pool construction project is a major undertaking and investment and you want to find a pool contractor with whom you feel comfortable and who is available to answer questions and address concerns.
Your pool contractor will help you navigate the maze of paperwork involved in the process of securing building permits for your pool project. He will also let you know whether you need a survey of your property and will talk to utility companies to see if there are underground lines.
Deciding the shape of your swimming pool is only one part of the entire process. You will want to determine the overall aesthetic for your outdoor living area knowing that the pool is the focal point. Gather pictures of pools and landscaping that you like and share them with your pool builder to make certain you are able to articulate your vision.
Pick up the phone today and call a pool contractor and begin the interview process of finding the ideal builder for your 2015 pool project.