Tipton Pool Builders, in Knoxville, TN answer the question, "what is pool coping?" 
Updating the swimming pool coping adds to its aesthetics. Updating pool coping isn't an overly involved project that will put your pool out of commission.
What is pool coping?
If you don't know what it is and what it does ask your swimming pool contractor from Tipton Pool Builders about your pool's and whether it needs to be updated.
Coping is the edging that surrounds the swimming pool and pulls the look together. If the pool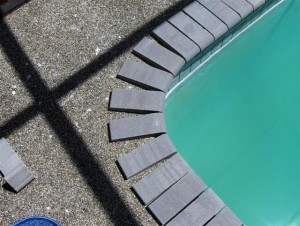 doesn't have coping it will look unfinished. Adding coping adds polish. It also adds a layer of safety because coping is a smooth edge and a non-slip feature.
Coping is the cap between the pool walls and the deck.
Look for coping that either complements or contrasts with the pool design.
In addition to style and design you will want to ask us whether you should use cantilever coping or bullnose coping. Cantilever coping is typically  used with brick, concrete and stone and will extend of the lip of the swimming pool; the bullnose style is used with concrete decking and will abut the pool lip.
When shopping for coping browse your pool builder's selection. Natural stone styles are available in granite, marble, sandstone, marble, limestone or even bluestone.
Concrete coping will be formed and poured onsite. With concrete coping, choose a color or pattern unless you want to keep it natural and let it weather naturally.
Porcelain tiles are another option that provide myriad patterns and color choices. Brick is the most durable and can also be colored to your specifications.
Decide on the "feel" and look you want for your pool before making any decisions on coping. This is another way you can make your pool uniquely yours.