Did you know that owning your swimming pool means you don't have to fight traffic or pay sky high airfares to get away to an exotic locale? Your pool pool means you have a vacation spot just outside your back door! With your own pool vacation can be an every day reality and if you're in the market to make that happen this year, you will want to talk to the swimming pool builders from Tipton Pools to get the process underway.
Having a swimming pool built may seem a large expense, but if you consider the amount of money you'd spend on a week long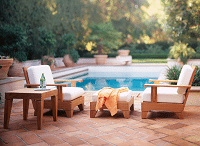 vacation, you'll see that a pool is an investment in your family's fun and future enjoyment for years to come.
Before you even begin the process of having your own swimming pool built, you need to come up with a budget for the construction as well as the ongoing maintenance as well as the potential for increase utility bills and a Knoxville, Tennessee swimming pool contractor can help you determine those numbers. Once you have those figures, now's the time to begin. Here are some tips on how to prepare for a construction project:
Ask friends and neighbors what they paid and then call local builders to get an idea on the price for an average in ground swimming pool.
Take into consideration, as well, the increases in your utility bills and the cost of pool maintenance.
Give yourself a 10-15% padding for the price of the completed project. You just can't plan for unexpected cost overruns during the project.
If you need to take out a loan for the project, you will need to give yourself a month or two before construction can begin. You can talk with your potential builder about financing as he or she may know of a lending institution willing to help you out or you can speak with the bankers at the bank which you typically work with.
Once you've done that bit of homework, you can begin looking for the pool design of your dreams. There are three popular in ground types – fiberglass, gunite or vinyl. Your builder can walk you through the pros and cons of each type. The budget for your project will be the determining factor in which type you'll ultimately work best for you.  A swimming pool is an investment that you and your family will have for decades and it can also be a selling point if you ever decide to relocate.